DESIGN AND ENGINEERING EXPERTS
Alternative Construction Methods
GREEN IS NOT JUST A 'BUZZ WORD'… IT'S OUR CHILDREN'S FUTURE!
If you are someone who is concerned with preserving the planet and you want to build a home that will allow you to make your own kind of impact, alternative construction methods may be the right choice for you. A green home is a type of house that is designed to be both sustainable and environmentally friendly.
While we believe that preservation of the planet is already a major reason to go green, there are other motivators as well. Many green construction methods will not only save the construction company money while the home is being built, but it will also save you a lot of money in the long run as well. Additionally, building a home using local material and labor will also keep transport pollution to a minimum as well.
Below you can learn more about the most common green materials we use when making structural plans at Crown Jade Design and Engineering.
WHAT BUILDING MATERIALS SHOULD I USE?
As we stated above, it is best to use local materials. While products like bamboo and exotic sustainable woods are in the news, they need to be shipped a long distance. Local materials have a low shipping impact (use less fuel), help the local economy, are suited for the area, and more accurately fit the definition of sustainable.
ALTHOUGH WE CAN ASSIST YOU WITH UTILIZING ANY BUILDING MATERIAL, HERE IS A BRIEF LIST OF POPULAR ALTERNATIVE PRODUCTS TO CONSIDER:

TIMBER FRAME
Timber Frame Barn Built for the Taylor Family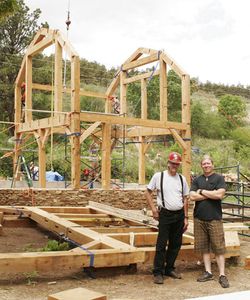 INSULATED CONCRETE FORMS (ICF)
Insulated Concrete Forms (ICF) Home Built for the Ellinhuysen Family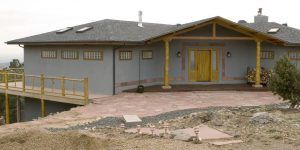 STRUCURAL INSULATED PANELS (SIPS) HOME
We update our site often ~ so please, check back for pictures
RAMMED EARTH
We update our site often ~ so please, check back for pictures
TOXICANT FREE
We update our site often ~ so please, check back for pictures